Some customers are so happy to have choose Southland that they want to share their satisfaction and their experience with futur customers and allow them to make a judicious acquisition.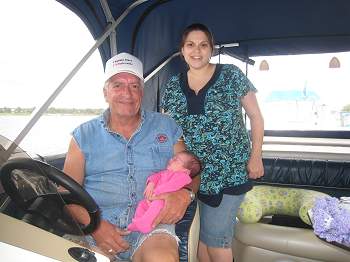 In the spring of 2009 we made one of the best decisions we have ever made as a family! We purchased a 21 foot Southland Pontoon Boat from McLean Sports in Fredericton, N.B.!
After some exhaustive research into which pontoon boats offered the best features, reliability and warranties, it was plain to see the Southland Pontoon boat was for our family. Our Southland is extremely well crafted, with luxurious seating, quality 5-chamber pontoons and is a real pleasure to haul. And, unloading and loading with the EZ loader trailer is a breeze.
Each time on the water we enjoyed the stereo, portable washroom, running water, enclosed or stowed canopy enclosure, cooler/refrigerator, stainless steel barbeque, very roomy seating area for up to 14, large storage capacity and lots of hot, sunny days and warm nights.
Powered by a very economical Yamaha 75 HP four stroke engine, our Southland Pontoon Boat was an economical joy to drive and easy to dock, anchor or attach to a mooring.
We enjoyed spectacular days and nights on the waters of New Brunswick and can hardly wait until next spring to begin again. This time we will make even more time for the UNBelievable, our wonderful Southland Pontoon Boat.
Thanks for producing such a great product.
Best regards,
Dave Morell
Marketing Manager
Department of Athletics
University of New Brunswick
Fredericton, New Brunswick
Canada
"There is a guy on our lake who own a pontoon boat which goes really fast. He even makes jumps on the water. His hobby is the video. He had transfered me these images. You will see, it is incredible."
– Jacques Fortin, St-Jean de Matha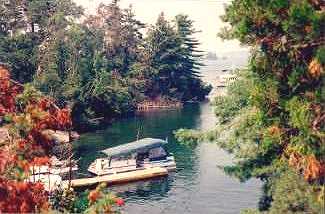 When I bought my first pontoon boat, I knew nothing about this kind of boat. Then I went in the Montréal Boat Show with my son, equiped with a booknotes and a tape. We took a lot of information to finally conclude that, report quality/price, Southland was the best choice.
Since, I have bougth two others Southland, bigger and bigger because my wife and I spend our holidays in full time on our pontoon boats which means four to five weeks a year. I find that Southland's pontoon boats are lay out to offer the maximum space to passengers. One exemple : if two adults want to seat one in front of the other on the front benchs, there is still place for other passengers to circulate, which is not the case on many other models. An another major concern : the fact that the pontoon have four to five independant chambers instead two sections as the major manufacturers do. It happened that I broked one section on trip and this accident did not disturb at all as the other sections continued to float and very few water introduced.
If I would had only two sections, I would probably had to be towed for repair and lost a part of my precious holidays. Definitively, the Southland's pontoon boats are solid, built to last and their lay out is tought by somebody who knows well the needs for space and comfort.
Pierre DaSylva from Candiac (Quebec)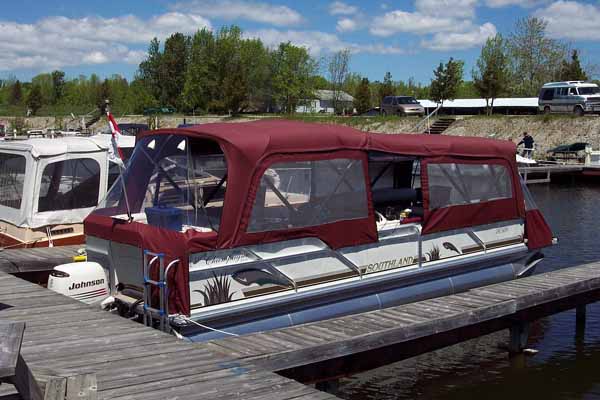 "We are getting so many compliments on our pontoon boat.  The basin is almost full now and every one is making compliments as to the roominess that is available.
Boat owners with 20-24 ft cudies say they can have comfortably 4 people in their boat and it is still crowded.  They are impressed with this Southland pontoon boat.  A lot of these cudies do not leave the harbour due to costs with fuel.  They are weekend hang outs (floating cottages).
From our front door to being on the boat is 12 minutes from the house and we are at Big Bay Point Marine.
We are meeting a lot of new friends and even sail boat people are impressed.
Marion and I had a great time with the 18 ft pontoon and thought we were king and queen, but this pontoon boat is something special to us.  6 ft made a large difference.
It is our 25th wedding anniversary and we both turn 50 this year so this is our present to each other.  Could not be better.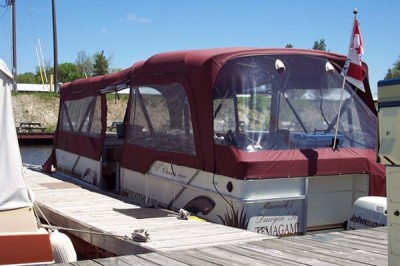 Thanks to Kim and Bill from Temagami Marine to make this boating experience on Lake Simcoe a reality !!"
Marion & Richard Rumney from Innisfil (Ontario)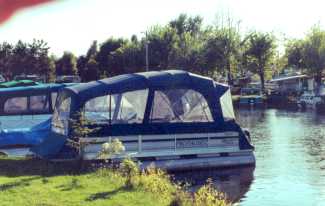 "We are very satisfied with our Southland pontoon boat, the X-STREAM model 21′.  We have a lot of space room, the full camper top is very well designed and very practical because it allows us to go on pontoon earlier in the spring and later in the fall.  It is our first boat and it is charmly.  We are very proud of our pontoon boat because it is very beautiful.  Regarding Sport Varennes, we have only good words for them. Their service and courtesy have to be mentionned.
Jean Savard from St-Bruno (Quebec)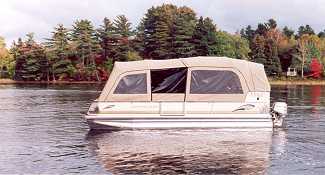 "We have chose a Southland pontoon boat because of its many advantages. It's a pontoon solidly built. We find a lot of space room and it goes well on the water with many people or only one couple. We have greatly appreciated the service given by Sport Varennes.
The sales representative gave us plenty of information about the use and the care of our pontoon boat. Those people are very handsome. We do not have any regrets about this purchase because we can enjoy the water in family and with friends."
Mr & Mrs Jean Courchesne from Varennes (Quebec)
"We just love our pontoon boat and have had so many nice comments about it from other pontoon owners. Everyone we take out just absolutely loves being on it no matter what the weather."
– Dan Dugas from Jackman, Maine
I asked you some information via your web site (email) and I would like to thank you for the rapidity with whom you answered me. I am on the market to buy a 2005 pontoon boat; be sure that this will be a Southland's because I am convinced of the excellent after-sale service. I am a customer very satisfied !
– Marc-André Bleau (Qc)
I have bought my pontoon boat in the winter of 2004 and took agreement w/ your dealer for delivery in mid-may 2004.  Even if I got my pontoon boat later (few days) than it was previous because of the non availability of the outboard, I can tell you that it was worth waiting for.
After only one day to the Marina, other pontoon boat owners from other brands was noticing me that the quality and the finish and the construction of my pontoon boat was excellent.
Summer look like being good !
– Pierre Langevin (Quebec)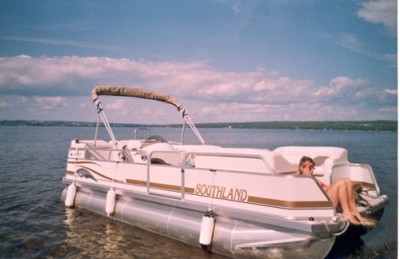 We want to congratulate you, my wife and I, about the high-quality rank of your products.
We recently bought (summer of 2004) a Luxuria 20 feet at Garage R. Roy (Lake Megantic) where we sail.  The performance of the pontoon boat when there are transverse waves is incredible; there is no structure distorsion (this pontoon boat is my third, we have been sailing since 20 years).
The motor box is extremely strong and the pontoon boat is well balanced because of the motor box is extended out of the pontoons length.  Our pontoon boat is equipped with a Yamaha 50 HP 4-stroke high-trust outboard and the balance is over our expectations.
The flooring of our pontoon boat is made of vinyl; what a wonderful option !   It is so easy to clean, no mildew and it dries so fast.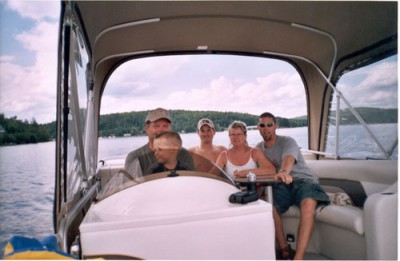 We are so proud of our pontoon boat, it is going to be our happiness for our pre-retirement.  Great thanks to Southland's team.

Raymonde & Michel Lapointe, St-Hyacinthe, Quebec.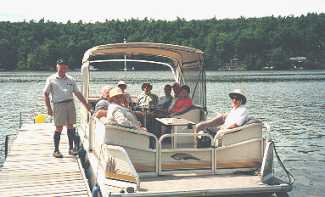 This past spring, we decided to change our pontoon boat for a new one. As a previous owner and as an owner of a luxuy home and auto, we were looking for a quality boat with comfort. After comparing many boats, the Southland 21′ X-STREAM and Carleton Place Marine met our needs. Professionnal service by Kirk Canon made this purchase enjoyable. We had a very good year with several outings with 10 people on board as can be seen in the photo. The boat provided a great ride for 2 or 10. We received many complements on our boat and can say without a doubt that there is nothing we would want to change.
Lloyd & Cathy Allinotte, Charleston Lake (Ontario)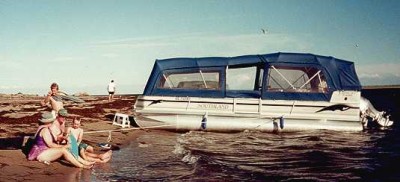 If I would have known that a pontoon boat was so exciting I would have bought one 25 years ago. I bought mine at Sea Land Sports in Richibucto. I bought it with my best friend and when we decided to buy, we went to Quebec to visit three different manufacturers.
It was much easier to ask questions and compare various makes and models. We choose Southland for several reasons, the quality of their construction, their design differences and the fact that their pontoons have four independant chambers instead only two. -We liked the way the pontoon boats were assembled, there is quality controls at each step of production. The owner gave us a tour of the plant and gave us plenty of information about the way they manufactured the boats and the components used. They do not compromise on quality.
I am located on the Richibucto river and I would highly recommend Southland pontoon boats to anyone who wants quality ,comfort , convience and a good time at a very good price. A team of happy troubadour with their own Southland pontoon boat " If anyone has questions or would like an actual drive on the boat I would be pleased to accomodate you. "
Bernard Landry Richibucto, (New-Brunswick) landrybe@hotmail.com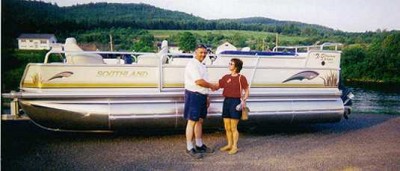 "My husband and I own a cottage along the Madawaska River in the Northwestern New Brunswick. Every day throughout the summer, pontoon boats would pass by in front of our cottage and they would always wave their hand and they would go by. I said " One day, I am going to have my own pontoon boat.". So I decided to visit North West Yamaha in Grand Falls.
They are a Dealer for Southland and I purchased the perfect pontoon boat, an X-STREAM 21 feet, blue in color and designed just the way I wanted it ! One special note is that I have been a carpet retailer all of my life and I couldn't help but notice the high quality of rug that is in my boat.
Since buying my Southland pontoon boat I have received nothing but excellent comments and I am very happy with my purchase. My husband and I cannot thank North West Yamaha enough for the friendly service."
Rachèle Lachance Edmunston (New-Brunswick)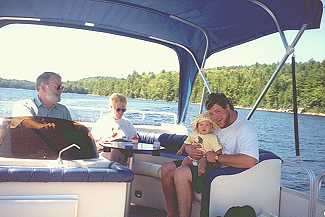 Our 21 feet Southland X-STREAM is a dream platform. It is well built, stable and handsome. We take our friends, children, and grandchildren for rides, go on picnics, dance to music from the CD player and have quiet conversations while on the way. It is a very worthwhile investment.
Barney and Mary Warren, Sebec Lake, Maine