Following the trend in the living room furniture, the latest fashion in pontoon furniture design is modular. This trend offers not only versatility it also allows to cover a wider surface. In a nut shell, you get more furniture for the same space. Our Mistral responds perfectly to this tendency.
The Mistral, the standard in our deluxe family, holds its own in style and comfort. Riding our Mistral will give you the most enjoyable experience.
Mistral Pontoon Performances
Equipped with two or with three toons, the MISTRAL has everything we need on a modern pontoon boat. He is light, handy and comfortable on cruise or on high speed session.
Testing it, the MISTRAL 24' 3 toons, powered with an Evinrude E-Tec 300 hp easily did a 52 miles per hour.
Top View of the Pontoon Boat

Pontoon Technical Information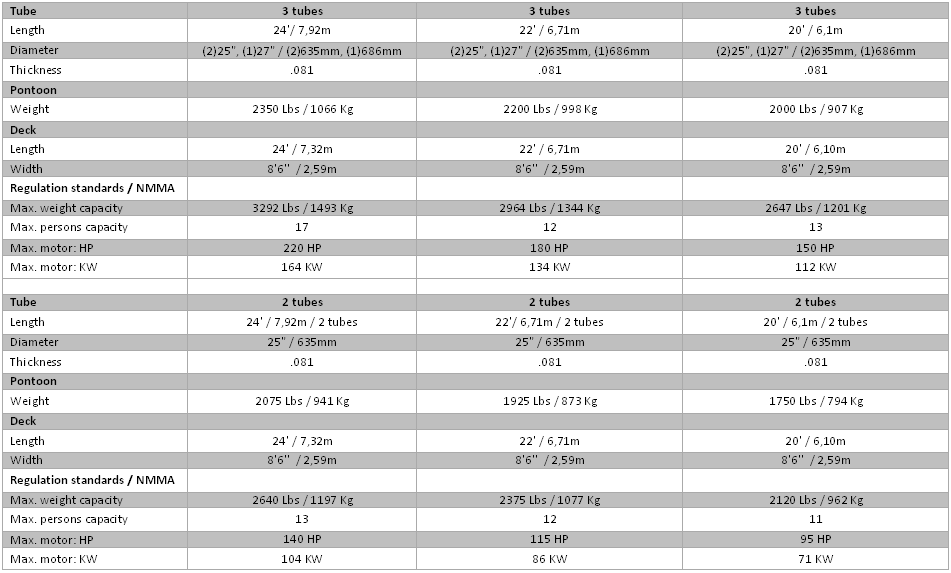 Features
Standard Equipments
Furniture
Deluxe seating with roto-cast bases
5 seating options on the 2486, 3 seating options on the 2286 & 1 seating option on the 2086 (see drawings)
Storage compartment under every couch
Deluxe captain's chair
Pop-up dressing room
Rear removable acrylic table with drink holders
One rear sundeck with seat lounge
Console
Deluxe console with glove box & garbage can
Switches & two 12 Volts adaptors
Sport tinted windshield with quick releases
Fiberglass dash panel
Standard steering wheel
Instrumentation
Fuel gauge
Speedometer
Trim gauge
Electric horn
Radio 200 watts with 2 speakers
Mechanic system with non-adjustable steering
Tachometer
Voltmeter
Structure
Rear access with deck
All aluminum V-shaped motor box bolted to 4 Z-channels
Canadian Coast Guard & CE certified
1 1/4″ anodized aluminum railings
4 molded aluminum corners with cleats
Pressure-treated wood decking (3/4″) treated at pressure of .40 CCA, screwed at every 8″
4 doors (2 for wheelchair access)
Marine-grade carpet or vinyl
25″ diameter pontoons with 5 independent air chambers & 5/8″ access plugs
Full length extra thick pontoon deck risers
3/16″ aluminum Z-bars at every 24″
Other Features
Battery box
Ladder
Navigation lights
Courtesy LED lights (4)
Stern light integrated in bimini top
Permanent 25 gal fuel tank
Bimini top 8′-6″ wide X 9′ long X 7′ high (1 1/4″ tubing) with boot
Docking eyelet – port side
Docking eyelet – starboard
Optional Equipments
Performance 3rd pontoon with integrated motor box/fixed. hydr. steer. syst./aluminum sheets
Performance Plus : performance kit (lifting strakes)
Minn Kota electric anchor
BBQ rectangular SS (13 000 BTU)
Mistral Captain's chair with bolster (exchange)
Reclining captain's seat (exchange)
Painted railings matching boat color
GPS, Fish Finder (RayMarine) colour with integrated depth sounder
Speakers, marine quality – Additional (2) for radio
Light: Docking
Light: shore lights (above bumper) with remote control
Light: shore lights (under bumper) with remote control
Light: shore lights (above & under bumper) with remote control
Front removable module (Mistral)
Drink holder – Oval (removable)
Depth sounder
Side keels
Fuel tank – Permanent (34 Gal.) integrated in the middle pontoon (exchange)
Table at front – acrylic, drop shape (35 1/2″ x 20 1/4″) or oval (18″ x 30″)
Toilet: chemical (water tank 10 li, waste tank 18 li)
Toilet: chemical toilet with pump-out (water tank 10 li, waste tank 18 li)
Top: mooring cover / transport cover 2486 (For RD use 2286)
Top: full camper for 2486 (For RD use 2286)
Top: shed style (without windows) for 8′-6″ width boat
Cover all the floor underneath with aluminum
Livewell in existing seat with pump
Adjustable steering wheel on 2 tubes (upgrade)
Adjustable steering system on tri-toon (exchange) (to become adjustable hydraulic steering system)