The Majesty SX is the perfect complement of our upper (luxury) range boat offer. Like the Champagne SX, the Majesty SX benefits from the two fiberglass boxes in front not only to improve its design but also to offer you more tidying spaces.
Its various floor plans combined to the marriage between transparent polycarbonate and aluminium will give you style and distinction on every water plans.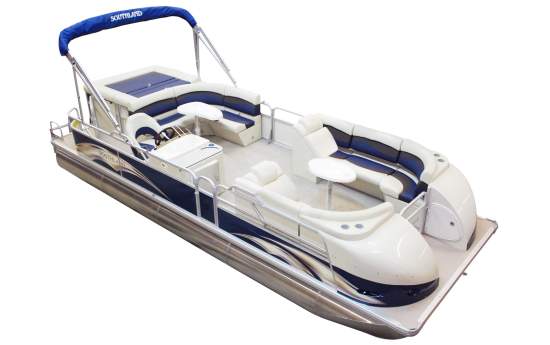 Majesty SX Pontoon Performances
I went crazy for the Majesty SX immediately when I saw it. With its fibreglass modules in the front, I knew that I could face any waves without to being sprayed very much. Furthermore, the furniture's design is so decedent and comfortable. I get compliments about my pontoon boat each time that I am out on water.
John Lott,
Ontario
Majesty SX Pontoon with Full Camper Top
The comfort of a full camper top is reflected not only by its design but also by the quality of the fabric. Like the ones found on all of our models the Majesty SX's one is manufactured with Top Gun fabric canvas, which carries a 5 years warranty against excessive fading.
Top View of the Pontoon Boat

Pontoon Technical Information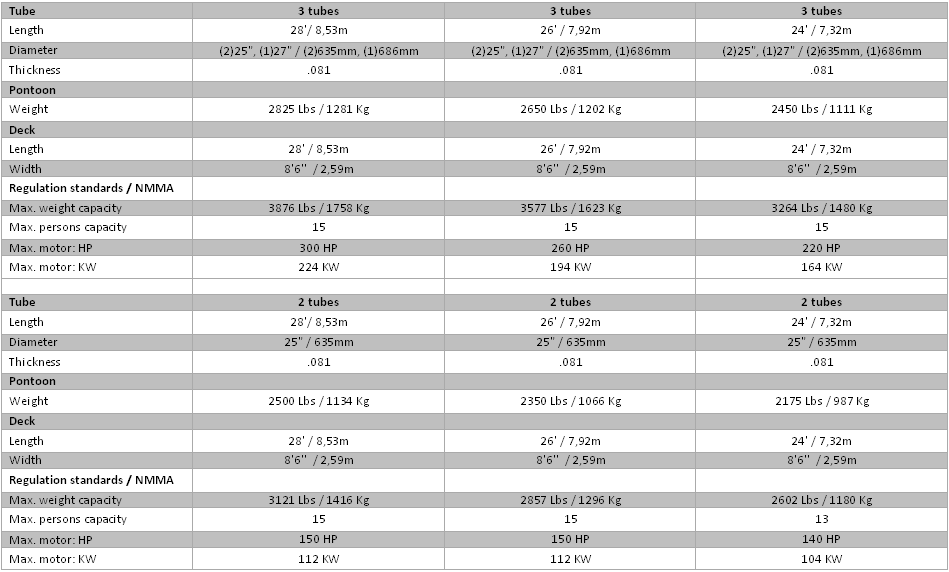 Features

Standard Equipments

Furniture
Deluxe seating with roto-cast bases
Two front fiberglass storage compartment
1 seating option on the 2886 & 2486 and 2 seating options on the 2686 (see drawings)
Storage compartment under every couch
Deluxe captain's chair with integrated armrests, swivel & sliding
Pop-up dressing room
Rear removable acrylic table with drink holders
One rear sundeck with seat lounge

Console
Deluxe helm console with baked laminated countertop, sink & faucet, water tank, glove box & garbage can
Switches & two 12 Volts adaptors
Sport tinted windshield with quick release
Fiberglass dash panel & steering wheel
Instrumentation
Fuel gauge
Speedometer
Trim gauge
Electric horn
AM-FM/CD/MP3/Ipod plug, 200 watts with 2 speakers
Mechanic system with tilt steering
Tachometer
Voltmeter
Structure
Rear access with deck
All aluminum V-shaped motor box bolted to 4 Z-channels
 Canadian Coast Guard & CE certified
1 1/4″ anodized aluminum railings
4 baked paint molded aluminum corners with deck cleats
Pressure-treated wood decking (3/4″) treated at pressure of .40 CCA, screwed at every 8″
4 doors (2 for wheelchair access)
Marine-grade  carpet
25″ diameter pontoons with 5 independent air chambers & 5/8″ access plugs
Full length extra thick pontoon deck risers
3/16″ aluminum Z-bars at every 24″
Other Features
Battery box
Ladder – Anodized rear fixed & folding one
Docking lights & navigation lights on fiberglass module
Courtesy LED lights (6)
Stern light integrated in bimini top
Permanent 25 gal fuel tank
Bimini top
Painted railings matching boat color
Optional Equipments
Performance 3rd pontoon with integrated motor box/fixed. hydr. steer. syst./aluminum sheets
Performance Plus : performance kit (lifting strakes)
Minn Kota electric anchor
BBQ rectangular SS (13 000 BTU)
Majesty Captain's chair with bolster (exchange)
GPS, Fish Finder (RayMarine) colour with integrated depth sounder
Speakers, marine quality – Additional (2) for radio
Light: shore lights (above bumper) with remote control
Light: shore lights (under bumper) with remote control
Light: shore lights (above & under bumper) with remote control
Front removable module
Drink holder – Oval (removable)
Depth sounder
Side keels
Fridge 12V (1,8 cubic feet capacity) (exchange) (takes 3,2 amp. intermittent)
Fuel tank – Permanent (34 Gal.) integrated in the middle pontoon (exchange)
Table at front – acrylic, drop shape (35 1/2″ x 20 1/4″) or oval (18″ x 30″)
Toilet: chemical (water tank 10 li, waste tank 18 li)
Toilet: chemical toilet with pump-out (water tank 10 li, waste tank 18 li)
Top: mooring cover
Top: full camper
Top: shed style (without windows)
Cover all the floor underneath with aluminum
Livewell in existing seat with pump
Adjustable steering system on tri-toon (exchange) (to become adjustable hydraulic steering system)