HRV Liberty Will Gives You Wings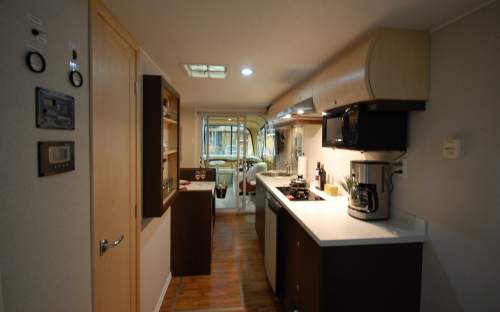 Spending extended periods of time on our lakes and rivers without spending a fortune is now possible with the HRV (Hybrid Recreational Vessel) Liberty. The HRV is a unique new concept developed by Southland a Canadian manufacturer of high quality pontoon boats. Knowing that many people are faced with the rising cost of waterfront property, the folks at Southland have come up with a practical economical solution that allows owners to feel completely autonomous with solar and wind power sources and all the amenities needed to experience life on the water without interruption.
Economy
The scarcity of waterfront property, the prohibitive cost of buying, maintenance, taxes and services are all the more reason to see the HRV as the economical practical alternative. At around a quarter of the cost of the average waterfront cottage in Canada and built with all aluminum structure the HRV is inexpensive to buy and inexpensive to maintain.
Autonomy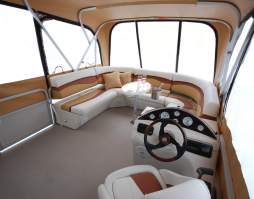 You can leave the dock with peace of mind with the HRV. This true hybrid offers a floating independence at all times thanks to its revolutionary design and three different energy sources: green, electric and propane. The green power comes from its 80W solar panels and its 200W wind turbine which can power any of the onboard appliances (fridge / microwave / washing / pumps, etc..). The HRV is also equipped with a 110v Shore power inlet when you are at the dock you can charge up the batteries and still use all the onboard appliances. Thirdly the fridge, stove, water heater are all propane powered with cylinders stored outside for safety.
The HRV has been designed to incorporate the best of both worlds. Half boat with large outside seating area and Half cruiser, with its full size stand up shower full kitchen and dinette, in the HRV you can enjoy the best of the outdoors without sacrificing anything in the comfort of daily living: eating, sleeping, having fun.
Portability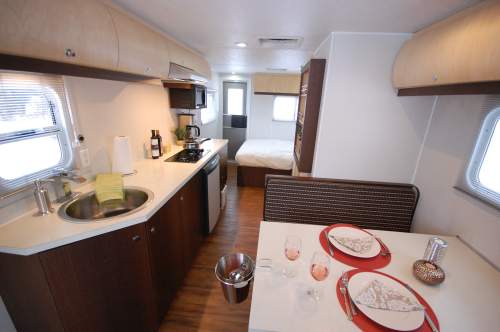 The ultimate benefit of HRV is the ability to live as a nomad, it is easily transportable on its own custom trailer since it weighs about 5,000lbs total. Did you want a change of scenery? Portaging across the province or the country is easy.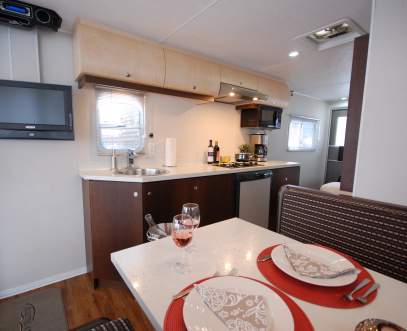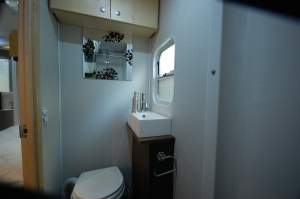 Specifications
Overall length : 34' (10,36 M)
Floor length : 32' (9,75 M)
Cabin length : 16' (4,87 M)
Width : 8'6'' (2,6 M)
Approximate weight: 6,800 lbs (3,091 kg)
Maximum capacity passengers : 10
Maximum capacity passengers on the upper deck: 4
Maximum capacity weight : 3,500 lbs (1587 kg)
Maximum H.P. capacity : 150 H.P. /112 kw