Pontoon Boats to enjoy with Family and Friends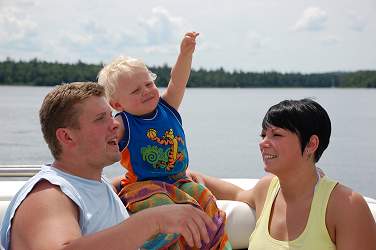 To own a pontoon boat is to be able to enjoy pleasant moments on the water in the company of family and friends. Indeed pontoon boats are very safe and stable. They allow free movement because of their flat deck. The rides on a pontoon boat are so quiet that children can fall asleep on the benches or the sun deck.  There is plenty of room for them to lie down., given their parents  some quiet time.
Pontoon Boat Means Party
Often a ride on a pontoon boat can turn into a party as you can safely dance. Its large flat floor area allows you to move about without any restrictions. With your favourite music coming from a premium 200 watts radio,  children, parents and friends are going to have a great time. Read More
Water Sports With a Pontoon Boat
A pontoon boat allows you to practice all the water activities you can imagine. You can fish, you can wake, you can ski, you can dive, go to the beach, go tubing, swimming, speed up or just sightseeing while enjoying  a good wine and eating your favourite foods .

Waterskiing With a Pontoon Boat
Waterskiing or wakeboarding should not be overlooked. A pontoon boat will give you a thrilling ride for hours. People think wrongly that it is impossible to water ski or to wake board with such a boat. What matters in waterskiing or wakeboarding is to bring the rider out of the water. Read More
Fishing Pontoon Boats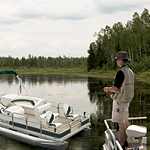 Nothing beats going fishing on a pontoon boat. In fact, with its large flat floor it makes fishing trips so much more enjoyable in many ways. You can invite more friends to join in or include the whole family. In a fishing boat there is this constant worry that children may fall…
Luxury Pontoon Boats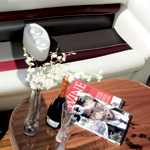 Teak & Mahogany
Southland, a leader manufacturer in Canada, earned recognition for its original products. Southland now offers teak and mahogany on its pontoons, a first in the industry. Southland now offers teak and mahogany on its pontoons…
Why to choose Southland Pontoon Boats
Quality Pontoon Boats
1Our commitment in quality is resting on :
Reliability of components, fabrics, subcontractors, deliveries delay and service during and after the sale.
Checking from the beginning construction process…
Flexibility…
Durable Pontoon Boats
2Southland pontoon boats are challenging the time thanks to strong construction. Because we are favoring our own methods despite the overtime they needSouthland Pontoon Boat never do any compromises on longevity. We have the same attitude in choosing our subcontractors based on their efficiency….

Good Looking Pontoon Boats
3Choosing Southland Pontoon Boat, you'll opt for beauty, meticulous design, trendy fabrics, refine fitting-out and various color swatch. The Southland Pontoon Boat's touch express itself in harmonious lines, sometimes exuberant and sometimes sober but always unique …
Safe and Secure Pontoon Boats
4Each boaters must cruise safely. It is the reason why the commitment of Southland Pontoon Boat consist in scrupulously answer to the governments safety rules. In addition, Southland Pontoon Boat take pride in being NMMA and CE certified even surpassing those criterias. For example…